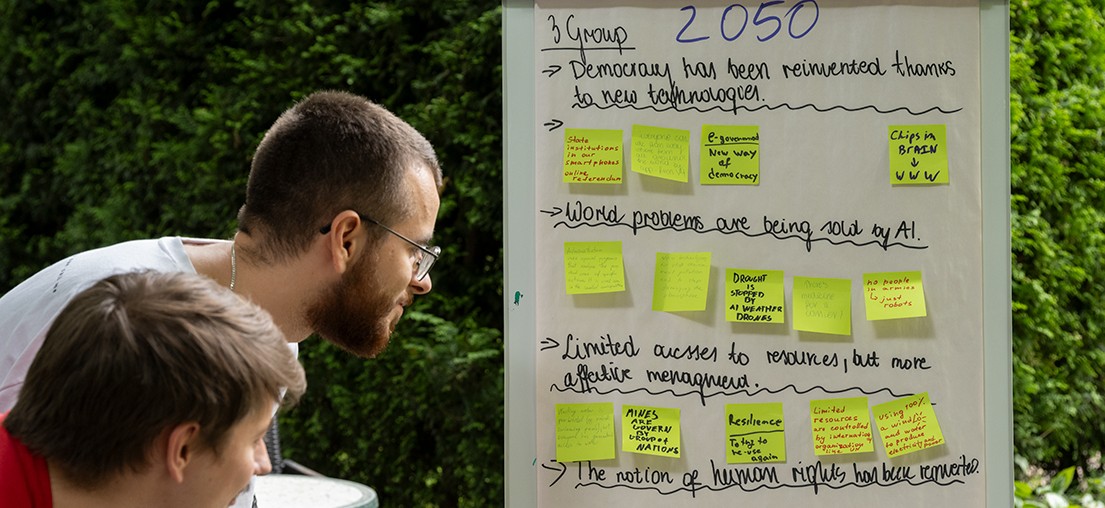 As part of this year's edition of the School our participants took part in workshops Future Literacy: Future of Human Rights conducted by Anna Sacio-Szymańska and Karol Wasilewski from 4CF The Futures Literacy Company.
During two days of intense workshops participants learned about the basic methods of thinking about the future, saw to what extent their ideas about the future influence their decisions, and deconstructed the conscious and unconscious assumptions that influence thinking about the future of human rights. As part of the workshop, participants faced questions that forced them to step outside the box. What does the future hold for human rights? What kind of world will we be living in 20 years from now?
As a theoretical introduction to the workshop, our experts introduced the participants to the basic methods of thinking about the past and the future (presenting, among other methods, foresight). In the next steps, the participants were presented with the task of preparing a future scenario regarding the future of human rights and the reality that, according to the participants, awaits us in the next 20 years. Among the challenges and problems identified were the eternal struggle for water, regulations on artificial intelligence, regulations on large companies and many others.
Participants, rotating in groups, faced both the scenarios they created and tried to meet the challenges of other groups' future scenarios. The entire workshop was supervised by the facilitators, ready to provide the needed support. The workshops showed the importance of working collective while predicting the future, adapting to the changing situation and challenging assumptions.