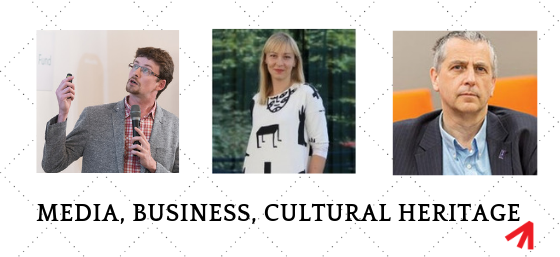 MEDIA, BUSINESS and CULTURAL HERITAGE – three great labs during the 18. VSS!
We are very happy to share with you some information about three labs: MEDIA, BUSINESS and CULTURAL HERITAGE which will be conducted during the 18. Visegrad Summer School! Labs are designed to develop specialist knowledge in the proposed areas. Students will discuss specific cases and solve selected tasks and at the end of the workshop they will present the results of their work in the form of a presentation. Below you can find more detailed information about each lab and its Expert!
MEDIA LAB
Disinformation, propaganda and "fake news": democracy at risk?
The MediaLab will focus on the impact of online disinformation on democracy and the public sphere, particularly in the region of Central and Eastern Europe. During the workshops, we will learn about and discuss the main risks stemming from the contemporary disinformation ecosystem for democracy, and will propose and present practical solutions aimed at countering the inflow and negative effects of online propaganda and disinformation campaigns. The recommendations will be oriented at different target groups, including media and journalists, young people as well as the older generation.
Expert: Václav Štětka, PhD
Lecturer in Communication and Media Studies, Loughborough University
Researcher, Charles University in Prague
Received his PhD in sociology from Masaryk University in Brno, the Czech Republic, where he worked as Assistant Professor at the Department of Media Studies and Journalism, Faculty of Social Studies. Between 2009 and 2013 he was Senior Research Fellow at the Department of Politics and International Relations, University of Oxford, working on an ERC-funded project Media and Democracy in Central and Eastern Europe. He moved to Prague in 2013, having been appointed a Senior Researcher at the Institute of Communication Studies and Journalism, Charles University. There, he established the Political Communication Research Group (http://www.polcore.cz), which focuses on the role of social media in political communication and civic participation. In 2016 he joined the Department of Social Studies, Loughborough University, becoming Lecturer and member of the new Centre for Research in Communication and Culture. Václav was a member of the Executive Board of ECREA (European Communication Research and Education Association) between 2015-2016, and since 2016 he is Vice-Chair of the Political Communication Section of ECREA. Since 2018 he is member of the Network of European Political Communication Scholars (NEPOCS).
His research interests encompass political communication and the role of new media, media systems in Central and Eastern Europe, media ownership and globalization.
BUSINESS LAB
Startups in the era of sharing economy
What will be the future of startups in the age of sharing economy? How to create disruptive innovations in the era of Uber, AirBnB and crowdfunding? We already know that the structural instability of capitalism and emerging symbiotic economy force business models to evolve into new directions. We also know that sharing economy can take a variety of forms, including using information to provide individuals, corporations, non-profits and governments with information that enables the optimization of resources through the redistribution, sharing and reuse of excess capacity in goods and services. During the class we will talk about building new ventures in this new unstable era and try to approach the issues with practical assignments of creating business model canvas for an open collaboration startup, as well as prototyping and beta-testing. 
Expert: Aleksandra Przegalińska, PhD
Assistant Professor, Kozminski University
Postdoctoral Researcher, MIT Sloan School of Management
Aleksandra is aPhD in philosophy of artificial intelligence. In 2011 Aleksandra worked as the Chairman of Audiovisual Working Party at the Council of European Union in Brussels and as an international representative of the Ministry of Culture and National Heritage. As a William J. Fulbright Scholar Aleksandra also majored in Sociology at The New School for Social Research in New York (2012), where she participated in research on identity in virtual reality, with particular emphasis on Second Life. She was a visiting scholar at The New School for Social Research/ Brown University in New York City (2014). She is an author of the book: "Wearable Technologies in Organizations Privacy, Efficiency and Autonomy in Work" (2018)
Aleksandra's primary research interest include consequences of introducing artificial intelligence systems to people's social and professional sphere.
CULTURAL HERITAGE LAB
The World of World Heritage
During the lab, we will look at cultural heritage from different perspectives. We will talk about categories of heritage within changing cultural and cross-cultural contexts and consider how tourists experience the past and how tourism works with heritage. The programme covers such issues as: Shifting Understandings of Heritage, the Importance of Heritage. Important part of the Lab will be think about aesthetics, values, community involvement, popular culture and intangible cultural heritage. Final topic which we will consider will be dedicated to tourism, narrations, interpretations and the future of heritage. During closing session, participants will present their draft projects.
Expert: Mike Robinson, PhD
Professor of Cultural Heritage
Director, Ironbridge International Institute for Cultural Heritage
He is the founder of the Centre for Tourism and Cultural Change, the founder and editor of the Routledge published Journal of Tourism and Cultural Change and the Channel View book series on Tourism and Cultural Change now with over thirty titles. He is on the Editorial Boards of several journals including: Mobilities, Levant and the Scandinavian Journal of Tourism. He was pleased to be invited to edit the SAGE Handbook of Tourism Studies (with Tazim Jamal). He has worked with UNESCO to produce a major report on Tourism, Culture and Sustainable Development and was commissioned to write on tourism and representation for the 2009 UNESCO World Diversity Report. He has worked on research and projects in over 30 countries. He was a Visiting Research Fellow at the Department of Literature at the University of Kwazulu Natal, South Africa; Visiting Professor in the Facoltà di Lettere e Filosofia, Università degli Studi di Trento, Italy and; most recently, Visiting Professor at National Central University in Taiwan. He has been fortunate to have been invited to give keynote speeches at a number of international conferences in the UK, Taiwan, China, India, Jordan, Lebanon, Portugal, France, Germany, Austria, Sweden, Lithuania, Spain, Czech Republic, Canada, and the USA. He has initiated and directed over 20 international conferences as a way of setting new agendas in research and as a way of developing productive partnerships with academics working in interesting fields and engaging with a wide range of international heritage and cultural institutions. He seeks to work with researchers from a wide variety of disciplines and cultural backgrounds in order to produce innovative and imaginative ways to understand and to translate the inter-relationships between heritage, tourism and culture.
For nearly twenty five years, his work has focused upon the inter-relationships between tourism, heritage and culture. Understanding tourism, and ourselves and others as tourists, provides us with an important conceptual lens through which we can interrogate heritage and other dimensions and expressions of culture. His work is international and interdisciplinary. He works at the boundaries of social anthropology, cultural studies, geography and history.