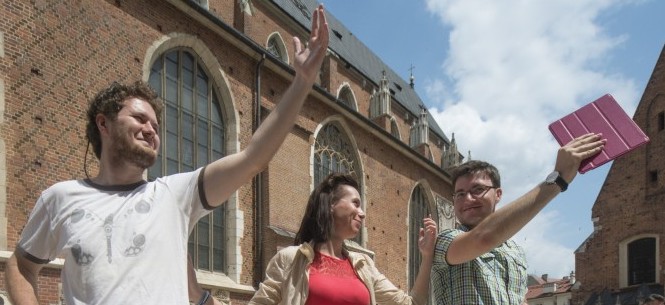 Well, the weekend is generally seen as the time for rest. In case of the 12. Visegrad Summer School this is just partly true. Instead of workshops or lectures the participants were travelling through the places and times.
It all began with the Saturday study tour in Małopolska region. The first point of the journey was Tarnów, the city where Józef Bem was born. The 19th century hero of both Hungarians and Poles is just an example of how much common Central and Eastern European history's traces is scattered all over the region. Such as for example the Galician Town near Nowy Sącz – an ethnographic park resembling the multicultural image of that area in the past. Indeed, diversity may serve as the best adjective to describe it. Besides Poles, Germans, Austrians, Hungarians, Czechs but also Ukrainians (whose interwar leader Symon Petlura's government was placed in Tarnów for some time) and finally Scotsemen lived there. Obviously that was also the home for the Jews…
Saturday ended at Szeroka street. The main artery of the Kazimierz district hosted the annual Jewish Culture Festival "Shalom at Szeroka" concert. Many participants decided to take part in the event despite the fatigues of whole day bus trip. It was definitely worth it. "That's pure happiness" Miriam Kanikova from Slovakia told me. Sucked into the seductive rhythm of the Jewish music – either of the hypnotically ardent Hassidic sobbing and the dynamically deluding twists of the passionate klezmer tempest – we were all taken to some lost and longed-for Central and Eastern European paradise. Has that "shalom utopia" of peace, completeness and welfare ever existed? At least in the music.
Eventually - but not so easily after the long night Sunday began in a royal style in the Wawel castle. No need to mention that the Polish kings' residence enjoyed its heydays when it used to be the capital of the multiethnic  state covering most of the current Central and Eastern Europe governed by the dynasty originating from Lithuania than was to sit on Czech and Hungarian thrones as well. After the castle, the participants took a tour around the churches of Kraków: either catholic (Roman and Greek), orthodox, protestant and the Armenian.
Later on there was a city game. The participants split into three groups to delve into the city looking for "Visegrad places" in Kraków. That wasn't easy. In order to move from one point to another they were asked questions and had to perform diverse tasks. For instance next to the statue of Adam Mickiewicz they were reading a part of the most famous work of the poet. Besides declamation, the participants were writing short poems, performing pantomime and prepared living sculptures.
The weekend ended with a nostalgic stroll around Kazimierz district. Hopefully it helped the participants to relax and recover before the challenges of the coming second week of the 12. Visegrad Summer School.
Ziemowit Jóźwik